"A man learned Finnish in a week!"
You must be kidding. It can't be true, can it?
Any chance you've already heard about the One and Only Language camp? If not, here goes; Attending an Language camp gives you, your spouse, friend or even a neighbour who's lost his heart to Finland an opportunity to speak Finnish 24/7 at the same time you/ he learns Finnish customs and eccentricities in a real context.
An Language camper will be able to row and fish his daily food in the nearby lake and not only that but he will learn to prepare what he caught in many different ways. It's also possible to chop wood and even work with a chainsaw if one feels confident enough. Together we'll heat the sauna and quite naturally being in Finland bathing in the sauna and dipping in the lake belong to the daily routine. And it's impossible to talk about bathing in the sauna without mentioning the Cold Beer.
To become a competent Language camper requires the skill to make fire and fry sausages on the bbq grill and if we get lucky we can pick berries and mushrooms in the nearby forest.
We also organize also slowdown camps for everybody .
We only speak Finnish at the Language Camp. The days start with a lesson where the day's special vocabulary is rehearsed. The participants will then converse with each other and the teacher by using the new terms in their conversations.
The main target of the camp is to enable the participant to dare to speak colloquial Finnish and to learn more about the Finnish and Lappish cultures.
The hostess and governess of the camp will be Anne, a Finnish/Swiss power woman. Her hubby, Pirmin, a Finnish speaking Swiss jack of all trades will be the host. The teachers are either Liisa and/ or Miisa, both competent language teachers.
The camp is located in Finnish Lapland, the village of Ivalo, our house by a lake in the middle of the forest.
Accomodation in single or twin room
all inclusive (except alkoholic beverages), based mainly on local ingredients, lots of fish from our lake or the nearby lakes, reindeer or other Lappish meat. We are famous for delicious and high-quality food. 
max. 4 persons. We expect you to know basic Finnish and be willing to learn to speak it better.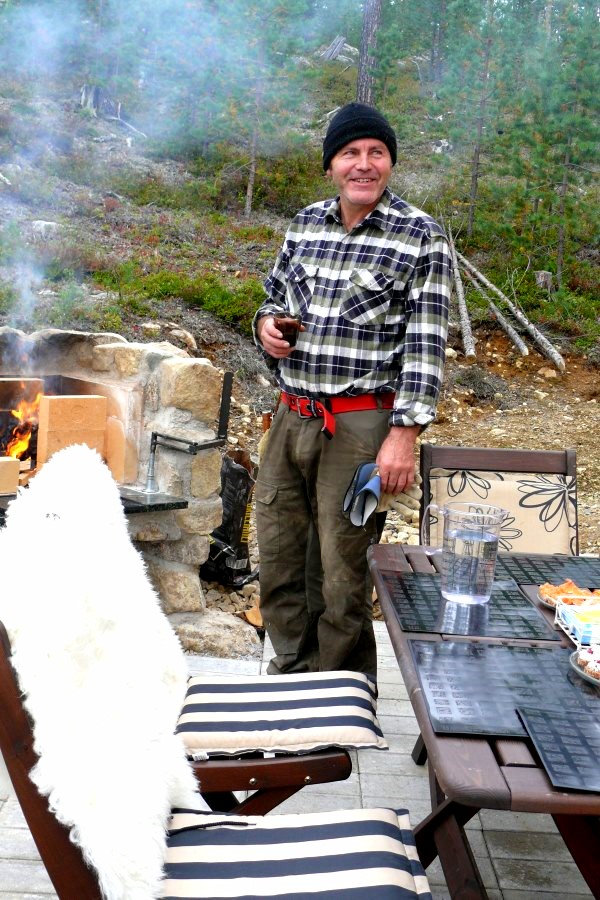 Summer and Autumn 2020.
Extra courses may be arranged if demanded.
Duration: One week (6 nights) from Sunday to Saturday.
Arrival: Depends on your personal itinerary but preferably on the Sunday. Finnair has daily flights from Helsinki to Ivalo.
all inclusive i.e. accommodation, meals, beverages (ex. alcoholic bev.), transportation, lessons and materials.
twin room: 2'700 euro
single room: 2'940 euros
Extra tuition: 50 euros per hour.
some pictures from courses 2018/2019

From Summer 2018 until autumn 2019 five courses were carried out.
Here some impressions from the courses.
Booking and further informations
info@lappian.com